email: denoux3124@gmail.com
blog: http://oneildenoux.blogspot.com
facebook: oneil.denoux
twitter: ONeilDeNoux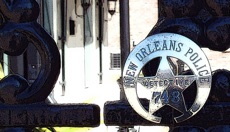 novelist, screenwriter, short story writer
SLICK TIME
A Sexy Caribbean-New Orleans Caper
There is a kidnapping, an extortion, the filming of an erotic movie, bungling FBI agents, a savvy NOPD detective, a private-eye known as the most dangerous man in New Orleans, as well as the Lusca – a sea monster inhabiting the Atlantis Blue Hole outside Kemps Bay, The Bahamas.
There is also a ruthless criminal who calls himself Hardacre, a sly mastermind who calls himself Slick, a host of pretty women and an attractive special agent with long brown hair, dark brown eyes and the intelligence to figure it all out. Too bad no one will listen to her.
Friscoville
Audio of a short story from the collection NEW ORLEANS CONFIDENTIAL
1948 New Orleans and Private Eye Lucien Caye encounters a little girl, a lost cat, and Public Enemy #1.