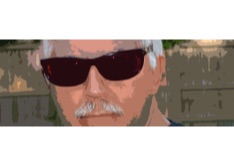 email: denoux3124@gmail.com
blog: http://oneildenoux.blogspot.com
facebook: oneil.denoux
twitter: ONeilDeNoux
novelist, screenwriter, short story writer
ALL BOOKS
available as eBooks at Amazon Kindle & Smashwords (for Nook, Apple iBooks, Kobo, Sony Reader, Stanza and other e-formats)
TRADE PAPERBACKS
only available via amazon.com
all books published by
BIG KISS PRODUCTIONS

a little about O'Neil De Noux
2012-2013 VICE-PRESIDENT of the Private Eye Writers of America
O'Neil De Noux writes in multiple genres, including historical fiction and realistic, character-driven crime fiction featuring the accurate dialogue of the street and strong settings, primarily New Orleans. His erotica seethes and his science fiction adventure stories are a throwback to Edgar Rice Burroughs. His publishing credits include 26 novels, 8 short story collections and over 400 short stories published.
His writing has garnered critical praise and writing awards:
LITERARY ARTIST OF THE YEAR
2015 PRESIDENT'S AWARD
St. Tammany Parish, Louisiana
2017 SHAMUS AWARD Nominee
HOLD ME, BABE by O'Neil De Noux was nominated for BEST PAPERBACK ORIGINAL PRIVATE EYE NOVEL. The Shamus Award is given annually by the Private Eye Writers of America to recognize outstanding achievement in private eye fiction
2017 DERRINGER AWARD Nominee for BEST LONG STORY "Effect on Men"
The Derringer Award is given annually by the Short Mystery Fiction Society to recognize excellence in short mystery fiction
2017 DERRINGER AWARD Nominee for BEST FLASH STORY "A Just Reward"
2016 SHAMUS AWARD Nominee
THE LONG COLD by O'Neil De Noux was nominated for BEST PAPERBACK ORIGINAL PRIVATE EYE NOVEL
2014 DERRINGER AWARD Nominee for BEST NOVELETTE "For Love's Sake"
BEST AMERICAN MYSTERY STORIES 2013 – short story "Misprision of Felony" selected for mystery writing's most revered anthology
2013 SHAMUS AWARD Nominee
ENAMORED by O'Neil De Noux was nominated for BEST INDIE P.I. NOVEL
2011 POLICE BOOK of the YEAR for the novel JOHN RAVEN BEAU (police-writers.com)
2009-2010 ARTIST SERVICES CAREER ADVANCEMENT AWARD from the Louisiana Division of the Arts for the novel BATTLE KISS
2009 DERRINGER AWARD WINNER for BEST NOVELETTE "Too Wise"
2009 DERRINGER AWARD Nominee for BEST LONG STORY "The Bonnie and Clyde Caper"
2007 SHAMUS AWARD WINNER for BEST PRIVATE EYE SHORT STORY "The Heart Has Reasons"
2007 UNITED KINGDOM SHORT STORY PRIZE Short Story Challenge Winner for "Death on Denial"
BEST AMERICAN MYSTERY STORIES 2003 Anthology – short story "Death on Denial" selected
FOR A MORE DETAILED BIOGRAPHY go to the BIOGRAPHY PAGE on this site
© 2019 O'Neil De Noux
all material on this website is copyrighted
WELCOME to my website where you will find books I've written, a biography and contact information. Although I write mostly crime fiction set in New Orleans, I also write in other genres and about other locales. You will find mysteries and historical fiction, children's fiction, mainstream fiction, science-fiction, fantasy, horror, western, literary, religious, romance, humor and erotica.
AUDIOBOOKS NOW AVAILABLE
at Amazon.com & Audible.com
GRIM REAPER
THE BIG KISS
JOHN RAVEN BEAU
NEW ORLEANS CONFIDENTIAL
NEW ORLEANS RAPACIOUS
ENAMORED
BACKWASH OF THE MILKY WAY
SLICK TIME
GENERAL ORDER NO. 28
THE NAKED LADY OF WHISPERING GULCH
MAFIA APHRODITE
LUCIFER'S TIGER
THE FRENCH DETECTIVE
NEW ORLEANS MYSTERIES
NEWEST BOOK
12 BULLETS
JOHN RAVEN BEAU SERIES NOVEL #5
Someone using the moniker of a murdered Mafia figure is trying to extort money from the archdiocese of New Orleans. The archbishop worries La Cosa Nostra could be behind the vandalisms of churches and Catholic schools. NOPD Chief Inspector John Raven Beau thinks this unlikely and leads his Critical Investigations Unit in pursuit of the extortionist. If LCN is not involved why are Italian gangsters shadowing Beau and girlfriend Jessie Carini, a former private eye, now a bank executive who uncovers suspicious banking activity between Mafia families in New Orleans, Kansas City, Miami and Mississippi, which includes the Mafia Aphrodite herself, deadly-gorgeous Lucy Incanto?
Extortion is just the beginning as heavily-armed men try to assassinate The Great Beau and Jessie, who has a moniker of her own – Maneater. This Sicilian-American beauty is as lethal as her boyfriend.
cover art by Dana De Noux
click on image to purchase