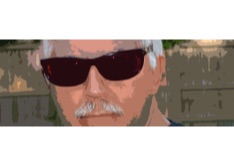 email: denoux3124@gmail.com
blog: http://oneildenoux.blogspot.com
facebook: oneil.denoux
twitter: ONeilDeNoux
ALL BOOKS
available as eBooks at Amazon Kindle & Smashwords (for Nook, Apple iBooks, Kobo, Sony Reader, Stanza and other e-formats)
TRADE PAPERBACKS
only available via amazon.com
all books published by
BIG KISS PRODUCTIONS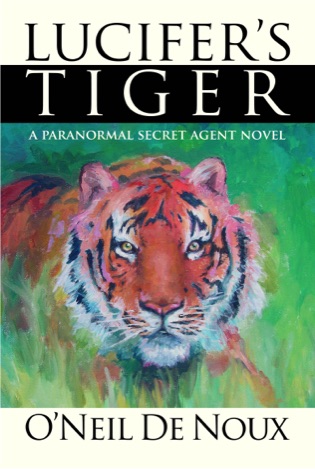 LUCIFER'S TIGER
IT IS 1936 and the world is on the brink of war –
An American with special talents is sent to the Portuguese colony of Macao to discover why Japanese agents are frantically searching for a mysterious stone called the Blaer. Murder quickly follows as the American stumbles on a vivacious brunette who needs rescuing. Or does she? This audacious woman has her own special talents.
Against a backdrop of exotic locales – Macao, a voyage through the South China Sea, through the Strait of Malacca to the Bay of Bengal to mainland India before our heroes travel to a lost island in the Arabian Sea to battle Nazi SS troops and evil scientists. The two Americans are drawn to one another on this plush island and are involved in a struggle of good versus evil.
What diabolical plan do Nazi scientists have for tigers? The perilous adventure becomes a deadly game of cat-and-mouse in the realm of the ultimate predator – the tiger.
cover art by Dana De Noux
About O'Neil De Noux
2012-2013 VICE-PRESIDENT of the Private Eye Writers of America
O'Neil De Noux writes in multiple genres, including historical fiction and realistic, character-driven crime fiction featuring the accurate dialogue of the street and strong settings, primarily New Orleans. His erotica seethes and his science fiction adventure stories are a throwback to Edgar Rice Burroughs. His publishing credits include 18 novels, 8 short story collections and over 300 short stories published.
His writing has garnered critical praise and writing awards:
LITERARY ARTIST OF THE YEAR
2015 PRESIDENT'S AWARD
St. Tammany Parish, Louisiana
2016 SHAMUS AWARD Nominee
THE LONG COLD by O'Neil De Noux was nominated for BEST PAPERBACK ORIGINAL PRIVATE EYE NOVEL. The Shamus Award is given annually by the Private Eye Writers of America to recognize outstanding achievement in private eye fiction
2014 DERRINGER AWARD Nominee for BEST NOVELETTE "For Love's Sake"
The Derringer Award is given annually by the Short Mystery Fiction Society to recognize excellence in short mystery fiction
BEST AMERICAN MYSTERY STORIES 2013 – short story "Misprision of Felony" selected for mystery writing's most revered anthology
2013 SHAMUS AWARD Nominee
ENAMORED by O'Neil De Noux was nominated for BEST INDIE P.I. NOVEL
2011 POLICE BOOK of the YEAR for the novel JOHN RAVEN BEAU (police-writers.com)
2009-2010 ARTIST SERVICES CAREER ADVANCEMENT AWARD from the Louisiana Division of the Arts for the novel BATTLE KISS
2009 DERRINGER AWARD WINNER for BEST NOVELETTE "Too Wise"
2009 DERRINGER AWARD Nominee for BEST LONG STORY "The Bonnie and Clyde Caper"
2007 SHAMUS AWARD WINNER for BEST SHORT STORY "The Heart Has Reasons"
2007 UNITED KINGDOM SHORT STORY PRIZE "Death on Denial" from the
BEST AMERICAN MYSTERY STORIES 2003 Anthology – short story "Death on Denial" selected
FOR A MORE DETAILED BIOGRAPHY go to the BIOGRAPHY PAGE on this site
© 2017 O'Neil De Noux
all material on this website is copyrighted
WELCOME to my website where you will find books I've written, a biography and contact information. Although I write mostly crime fiction set in New Orleans, I also write in other genres and about other locales. You will find mysteries and historical fiction, children's fiction, mainstream fiction, science-fiction, fantasy, horror, western, literary, religious, romance, humor and erotica.
click on image to purchase
Coming in Autumn 2017
A new LaStanza Novel
AUDIOBOOKS AVAILABLE NOW at Amazon.com & Audible.com
GRIM REAPER
THE BIG KISS
JOHN RAVEN BEAU
NEW ORLEANS CONFIDENTIAL
NEW ORLEANS RAPACIOUS
ENAMORED
BACKWASH OF THE MILKY WAY
SLICK TIME
GENERAL ORDER NO. 28
THE NAKED LADY OF WHISPERING GULCH