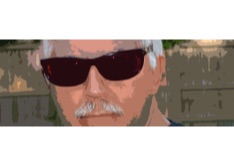 email: denoux3124@gmail.com
blog: http://oneildenoux.blogspot.com
facebook: oneil.denoux
twitter: ONeilDeNoux
novelist, short story writer, screenwriter
Compiled by Lydia Xiao, Tracy L. Haven & O'Neil De Noux
O'Neil De Noux (born in 1950 in New Orleans, LA) is a prolific American novelist and short story writer. Although most of De Noux's fiction falls under the mystery genre, critics describe his work as character-driven crime fiction. He has published stories in many disciplines beyond the mystery, including historical fiction, children's fiction, mainstream fiction, science-fiction, fantasy, horror, western, literary, religious, romance, humor and erotica.
De Noux credits writer friends in New Orleans (including George Alec Effinger, as well as mentor Harlan Ellison in Los Angeles) help him become a critically acclaimed mystery writer and instructor of writing classes at several universities. De Noux has influenced a number of published writers at the beginning of their careers. His police procedural novels and mystery stories have been lauded for their hyper-realism, sharp dialogue and strong use of setting, primarily New Orleans. He has also carved a niche with his genre-blending fiction, mixing erotica with mysteries, science-fiction and humor.
Early Life
De Noux was born on State Street in New Orleans, LA, to a mother of Sicilian descent and father of French descent. Educated in Catholic schools like St. Mary of the Angels, Holy Rosary and Our Lady of Prompt Succor, De Noux was brought up Catholic. His father, O'Neil P. De Noux, Sr. (1928–1997) was in the U.S. Army. Consequently, the De Noux family traveled extensively. An army-brat, De Noux lived in Oklahoma, Kansas, Mississippi and Italy before his father retired and returned to New Orleans in 1966.
While in Italy, De Noux began his life-long love of books and movies. Reading a book a week from the army post library, he saw just about every Hollywood movie produced between 1960 to 1963 at the post theatre. The only exceptions were Hitchcock's Psycho and the James Bond movies, which his father deemed inappropriate for a pre-teen. He was able to see Psycho at age thirteen, which drew him to greatly admire, and later closely study the works of Alfred Hitchcock. As a youngster, De Noux's favorite writings were the works of Edgar Allan Poe, Homer's The Iliad and The Odyssey and the We Were There series of young-adult novels, his favorite - Were There At The Normandy Invasion by Clayton Knight. He quickly moved on to the Horatio Hornblower novels of C. S. Forester.
On November 22, 1963, while home from school with a fake headache, De Noux watched the TV coverage of the assassination of his hero, President John F. Kennedy, an event which changed his life dramatically. Awakening to the dramatic social changes occurring in the south in the 1960s, De Noux grew to admire Martin Luther King, Jr. and Robert Kennedy.
Influence of his Family
The trauma of Vietnam visited the De Noux home with telling effects as his father, set to retire in 1965, volunteered for service in Vietnam. A criminal investigator for the C.I.D., O'Neil, Sr. was promoted to provost marshal first sergeant of the First Infantry Division and followed his combat tours in World War II and Korea (where he received three purple heart medals) with a tour in Vietnam. Shot outside Saigon by a Viet Cong sniper, O'Neil, Sr. suffered bruised ribs but no gunshot wound when his bullet-proof vest stopped the bullet. Learning he would not receive a fourth purple heart because he did not shed blood for his country in this shooting, O'Neil, Sr. threw away the flak-vest, declaring, "Next time I get shot, I'm getting another purple heart."
His father retired from the U.S. Army and brought the family to live in the New Orleans suburb of Metairie, where De Noux returned to Catholic School at Archbishop Rummel High, where he graduated in 1968. Upon earning a gold certificate as a top English student, De Noux, a faithful Marvel Comics fan, listed Stan Lee as his favorite author (to the chagrin of the Christian Brothers). While at Archbishop Rummel, De Noux added H. G. Wells, George Orwell, J. D. Salinger, F. Scott Fitzgerald and Ernest Hemingway to his list of favorites (after Stan Lee). Reading Ray Bradbury's The Martain Chronicles drew De Noux to science-fiction and inspired him to begin writing. During the next few years De Noux penned twenty of the worst science-fiction stories ever written. He still has the stories and goes back to them to remind himself just how badly he could write.
De Noux's father, a strong influence in his life, rose through the ranks of the Jefferson Parish Sheriff's Office to command the Crime Scene Division. Upon graduating from high school, De Noux joined the sheriff's office as a police cadet, attending Loyola University New Orleans where he studied criminology.
Military Service
Leaving the sheriff's office in 1970 to join the F.B.I. as a clerk, De Noux was promptly drafted into the U.S. Army for service in Vietnam. While awaiting shipment to Southeast Asia, angry at being a second-generation to serve in Vietnam, De Noux was shocked when his shipment was cancelled as the gradual reduction in forces began. From California's Fort MacArthur, De Noux was stationed at the U.S. Army Aviation Center, Fort Rucker, Alabama.
His army MOS was Photographer: Combat Still. De Noux took run-of-the-mill army pictures while expressing himself creatively with black-and-white still-life photos, winning several Best Photo Awards. In later years De Noux's photos adorned the covers of several fiction magazines, as well as the covers of many of his books and short stories. While at 'Mother Rucker' De Noux earned a Bachelor's Degree in European History from Troy University.
With his father a war hero, De Noux felt he'd succeeded in his military service when he was signing out of the army and met his company commander for the first time. His captain declared, "What have we here, a new man?" To which De Noux responded no, he was leaving the army. "How long have you been in my company?" asked the captain to which De Noux advised eighteen months. An article in Stars-And-Stripes topped De Noux's military career as it explained how he managed three years of honorable military service without anyone noticing he was there. This followed De Noux's earlier election as Senior Most Likely to Remain Anonymous at Archbishop Rummel. By this time, De Noux's affection for science fiction drew him to "New Wave" authors Roger Zelazny, Samuel R. Delany, James Sallis, and Harlan Ellison, his new favorite writer. He read everything available by Ellison and renewed his pursuit of writing science-fiction with the same results – bad stories, badly written.
Early Police Career
For the next three years, De Noux served as criminal intelligence analyst for the Regional Organized Crime Information Center in suburban New Orleans. While working the nightshift, De Noux abandoned his dream of becoming a successful science-fiction writer. He turned to mysteries and began working on what became a five hundred page, single-spaced manuscript, a disjointed series of stories featuring his first literary creation. Instead of following other New Orleans writers who focused on characters with French surnames, De Noux tapped his mother's side of the family to create his Sicilian-American cop hero, NOPD Patrolman Dino LaStanza. The manuscript depicted the escapades of a patrolman with no central plot. Too episodic, the only encouragement De Noux received from editors was praise for the realistic dialogue and strong use of setting.
From 1977 to 1980, De Noux was a uniformed patrol officer for the Jefferson Parish Sheriff's Office, the most rewarding working experience of his life. When promoted to the Homicide Division, De Noux found his calling and finally discovered what he should write about. An exceptional career as a homicide detective followed in which De Noux solved every murder where he was lead investigator (fifteen) and assisted in over fifty other homicide investigations. In 1980 De Noux completed the Homicide Investigation curriculum at The Southern Police Institute of the University of Louisville.
Earning seven commendations, De Noux was named Homicide Detective of the Year in 1981. Shortly after, he was transferred from Homicide, banished to a quiet police district when a new sheriff was elected. Offered a lucrative position as chief investigator at a private investigative firm, De Noux worked as a P.I. for the next eight years. Freed from working double shifts with the sheriff's office, De Noux sat down to pen a homicide novel in 1986.
Writing Career
Turning Patrolman LaStanza into a homicide detective, De Noux completed Grim Reaper, which was immediately purchased by Zebra Books. Four subsequent LaStanza novels followed, The Big Kiss, Blue Orleans, Crescent City Kills and The Big Show. Lauded for their hyper-realistic portrayal of police homicide work, the LaStanza Series received critical acclaim for its sharp dialogue and fast-pacing. In 1999, a short story collection, LaStanza: New Orleans Police Stories (Pontalba Press), received an 'A' book-review rating from Entertainment Weekly magazine. De Noux adapted one of the LaStanza stories "Waiting for Alaina" into a screenplay, which was filmed in New Orleans and broadcast on local TV in 2001.
With the release of Grim Reaper, De Noux met George Alec Effinger, a talented science-fiction writer living in near obscurity in the French Quarter. Effinger's first book in his Budayeen Series, When Gravity Fails, was just released. A strong friendship developed as Effinger encouraged, then taught De Noux how to write short stories. When Effinger introduced De Noux to his literary idol, Harlan Ellison, De Noux found his mentor. Ellison, the award-winning grand master of speculative fiction took De Noux under wing and remains a strong influence in his writings. In an article about writing, voracious reader De Noux stated, "I read all the time. Then I go back and read Ellison to cleanse my palate, like good wine."
Effinger also introduced De Noux to another of his "New Wave" heroes, James Sallis, who had just begun writing his New Orleans mystery series of Lew Griffin novels. Sallis later penned the introduction to De Noux's collection New Orleans Confidential. Sallis's poem "Eternal Return" provided the title of De Noux's novel City of Secrets.
Shortly after accepting De Noux's story "The Desire Streetcar" in 1991, for their Pulphouse: Fiction Spotlight, the legendary publishing house, Pulphouse Publishing of Eugene, Oregon, offered De Noux a position where he trained as an editor. De Noux became the founding editor of two short-lived fiction magazines, Mystery Street and New Orleans Stories. He also succeeded in selling his first science-fiction short story.
Returning to New Orleans in 1992, De Noux began a long association with Louisiana colleges, teaching writing classes (creative writing, short story writing, mystery writing and science-fiction writing) at Tulane University (1993–1997), the University of New Orleans (1998–2005), and Delgado Community College (2004–2005). In 1993, De Noux's non-fiction book Specific Intent, a lead title from Pinnacle Books, became a main selection of the Doubleday Book Club. This true-crime book detailed the intricate police investigation of a murder case which shocked south Louisiana. By the end of the 20th Century, De Noux had sold nearly two hundred short stories and had written articles for The Writer Magazine, The Times-Picayune newspaper, Gambit Weekly and Police Magazine.
Return to Law Enforcement
In 2005, when Hurricane Katrina devastated New Orleans, severely damaging De Noux's home, he relocated with his wife (Debra Gray De Noux, editor of the anthology Erotic New Orleans) to Southwest Louisiana. Taken in by generous patrons of the arts, Anne and Dr. Lee J. Monlezun, De Noux taught mystery writing at McNeese State University, Lake Charles, LA, in 2006. Nearly a year to the day after Hurricane Katrina, De Noux resettled across Lake Pontchartrain from New Orleans in St. Tammany Parish. The economic crunch in which he found himself after the hurricane also necessitated his returning to law enforcement as a police investigator at a Southeastern Louisiana University in Hammond,LA. De Noux retired from SLU in 2017.
De Noux married Debra Gray De Noux in 1992. They have collaborated on a number of short stories and she is the model for many of the covers of De Noux's books and stories. Debra is the force behind Big Kiss Productions. O'Neil has two children from a previous marriage - Vincent De Noux (artist and sculptor) and Dana De Noux (artist painter). O'Neil describes them as his greatest collaborative effort.
Never Stopped Writing
In March 2006, his short story collection, New Orleans Confidential, featuring N.O. Private Eye Lucien Caye, was published by PointBLANK Press (Holicong, PA). This collection of 1940s noir stories received rave reviews. From Publisher's Weekly — "an engaging, fast-paced collection of stories featuring private eye and womanizer extraordinaire Lucien Caye as he tracks philandering husbands, possible murderers and missing cats … these stories-abounding with ample bosoms and willing women-are fun, and the author knows his stuff when it comes to the Big Easy."
Cementing his niche in genre-blending, De Noux's collection of erotic detective stories, New Orleans Irresistible, was published by EAA Signature Series Books in May 2006. One story in the collection, "Death on Denial," previously published in the critically acclaimed anthology, Flesh & Blood: Guilty as Sin, edited by Max Allan Collins and Jeff Gelb (Mysterious Press) had been chosen for the Best American Mystery Stories 2003 Collection (Houghton Mifflin).
De Noux is also the creator of two additional recurring characters, 1890s New Orleans Police Detective Jacques Dugas and contemporary NOPD Homicide Detective John Raven Beau. These characters, along with Dino LaStanza and Lucien Caye, have appeared in dozens of magazines and anthologies, including top mystery magazines such as Ellery Queen, Alfred Hitchcock and Crimewave (UK). John Raven Beau, half-Cajun and half-Sioux, is prominently mentioned on several Native-American Detective web sites.
Recognizing the future of publishing, De Noux made a move to eBooks and print-on-demand books in 2010. The long-awaited erotic-thriller, Mafia Aphrodite (sold to Orion in 2006 but abandoned when the NEON line of books was canceled) was published by British publisher Xcite Books. A sexy caper novel, Slick Time, was published by Big Kiss Productions, followed by New Orleans Mysteries, New Orleans Nocturnal, the novel John Raven Beau and the second edition of New Orleans Confidential (which includes the two award-winning private-eye stories, "The Heart Has Reasons" and "Too Wise"). Taking control of his career, De Noux and wife Debra (now his business manager) lay out the books, create the covers and control the pricing of the books. Additionally, De Noux began selling previously published and unpublished short stories on Amazon KINDLE directly to the public as eBooks via his web site - http://www.oneildenoux.com.
O'Neil De Noux's prolific output has never slowed - the collection New Orleans Prime Evil was followed by the publication of his first private eye novels New Orleans Rapacious and Enamored featuring Lucien Caye, followed by a third in 2016 - Hold Me, Babe. De Noux also publiched a crime-susplense novel Bourbon Street, a superhero novel Mistik and a collection of science fiction stories, Backwash of the Milky Way. The release of the long-awaited new LaStanza novel New Orleans Homicide and the re-issue of the entire series backlist of LaStanza novels. The publication of the seventh LaStanza novel The Blue Nude, which took LaStanza from homicide detective to private eye, was followed by the publication of LaStanza novels The Long Cold, Saint Lolita, and Righteous Sentence. De Noux also released a second John Raven Beau novel City of Secrets (an after-Katrina novel) a third Nude in Red, a fourth The Great Beau, and a fifth 12 Bullets. A new series character 1930s New Orleans Private Eye Edgar Sanglier was introduced when Hardscrabble Private Eye in 2022.
In 2017, O'Neil De Noux moved into another genre with the release of Lucifer's Tiger and Lucifer's Falcon, secret agent superhero novels.
Historical Fiction
"There is one book I was meant to write," O'Neil De Noux says. "It is the historical epic set during the Battle of New Orleans." Haunted by the battlefield in Chalmette since childhood (he lived in nearby Arabi for ten years), De Noux penned the 320,000-word novel Battle Kiss in 2011, and followed it in 2013 with USS Relentless, a 230,000-word historical saga of the US Navy during the age of sail and set during the Barbary War of 1803 through the War of 1812. The historical mystery The French Detective followed. In 2016, De Noux published another historical novel, Death Angels, set during World War II. Gilded Time, a novel of The Gilded Age was released in 2022.
Now in the 21st Century – O'Neil De Noux lists his literary influences as (alphabetically): Paul Bishop, Michael Bracken, Max Allan Collins, Bernard Cornwell, George Alec Effinger, Harlan Ellison, Fannie Flagg, Ian Fleming, John Floyd, Ken Follett, Allan Guthrie, Thomas Harris, Greg Iles, Alexander Kent, Elmore Leonard, H.P. Lovecraft, C. L. Moore, James L. Nelson, Naomi Novik, Jeff Shaara, James Sallis, Adriana Trigiani and Kate Wilhelm. He has also developed a particular affinity for mystery writers B.J. Bourg, Frederic Brown, Howard Browne, James M. Cain, David Dodge, Loren Estleman, Channing Hayden, Robert S. Levinson, Wade Miller, Marcia Muller, Max Phillips, Bill Pronzini, Dayne Sherman, Kent Westmoreland, Harry Whittington, Charles Willeford, Charles Williams, Cornell Woolrich and Dave Zeltserman.
Awards and Recognitions
Vice-President of the PRIVATE EYE WRITERS of AMERICA (2012-2013)
Literary Artist of the Year 2015 - St.Tammany Parish Art's Council, St. Tammany Parish, LA
2020 Shamus Award for Best Private Eye Short Story was awarded to "Sac-a-lait Man" by O'Neil De Noux (the story published in the September/October 2019 Issue of Ellery Queen Mystery Magazine). The prestigious Shamus Award is given annually to recognize outstanding achievement in private eye fiction.
2017 Derringer Award Nominee for Best Long Story "Effect on Men"
2017 Derringer Award Nominee for Best Flash Story "A Just Reward"
2017 Shamus Award Nominee for Best Paperback Original Private Eye Novel Hold Me, Babe
2016 Shamus Award Nominee for Best Paperback Original Private Eye Novel The Long Cold
2014 Derringer Award Nominee for Best Novelette "For Love's Sake"
2013 Shamus Award Nominee for Best Indie Private Eye Novel Enamored
2011 POLICE BOOK OF THE YEAR. On May 23, 2012 (San Dimas, CA), Police-Writers.com professional writers organization named the novel John Raven Beau by O'Neil De Noux as the police book of the year. The selection process considered all fiction and non-fiction books authored by police writers in 2011. Current, retired and former law enforcement officers are included in the organization of over eleven hundred published writers who have published over 2,300 books.
2009-2010 Artist Services Career Advancement Award from the Louisiana Division of the Arts for Battle Kiss
2009 Derringer Award for BEST NOVELETTE was awarded to "Too Wise" by O'Nei De Nox (from the November 2008 Issue of Ellery Queen Mystery Magazine). Derringer Awards are given annually to recognize excellence in the short mystery fiction form. Another De Noux story, The Bonnie and Clyde Caper featuring John Raven Beau was nominated in the Derringer Best Long Story category the same year.
2007 Shamus Award for Best Private Eye Short Story was awarded to "The Heart Has Reasons" by O'Neil De Noux (the cover story of the September 2006 Issue of Alfred Hitchcock Mystery Magazine).
2007 United Kingdom Short Story Prize Short Story Challenge Winner
2005 Artist Mini-Grant Award for Literature from the Louisiana Division of the Arts
Best American Mystery Stories Collection Stories included in 2013 and 2003 editions
Bibliography
Novels
Battle Kiss
Bourbon Street
Death Angels
Gilded Time
Mafia Aphrodite
Mistik
Slick Time
USS Relentless
LaStanza Series Novels
Grim Reaper
The Big Kiss
Blue Orleans
Crescent City Kills
The Big Show
New Orleans Homicide
The Blue Nude
The Long Cold
Saint Lolita
Righteous Sentence
Beau Series Novels
John Raven Beau
City of Secrets
Nude in Red
The Great Beau
12 Bullets
Caye Series Novels
New Orleans Rapacious
Enamored
Hold Me, Babe
Dame Money
Walkin' The Blues
The Spy Who Used My Love
Dugas Series Novels
The French Detective
Howls in the Night
Sanglier Series Novels
Hardscrabble Private Eye
Lucifer Series Novels
Lucifer's Tiger
Lucifer's Falcon
Short Story Collections
LaStanza: New Orleans Police Stories
New Orleans Confidential
New Orleans Prime Evil
New Orleans Nocturnal
New Orleans Mysteries
New Orleans Hardboiled
New Orleans Irresistible
Hollow Point & The Mystery of Rochelle Marais
Backwash of the Milky Way
Screenplay
Waiting for Alaina
Non-Fiction
A Short Guide to Writing and Selling Fiction
Specific Intent
Collaborations
American Casanova, New Adventures of the Legendary Lover – Contributor
Building Believable Characters – Contributing Writer
Selected Short Stories
The Desire Streetcar
The Man with Moon Hands
Slimy Things Did Crawl With Legs Upon The Slimy Sea
The Murders Along the Rue Frenchmen
The Purloined Woman
The Gold Bug of Jean Lafitte
A Hot and Copper Sky
Whispers in Walled Tombs
Fais Do Do
Murder at Suicide Oak
St. Expedite
Friscoville
Murder Most Sweet
Her Windblown Skirt
The Purple Side of Blue
Lair of the Red Witch
Tyrannous and Strong
The Naked Lady of Whispering Gulch
Love and Murder
Upon a Painted Ocean
The Iberville Mistress
A Gathering at Lake St. Catherine
Expect Consequences
Don't Make Me Take Off My Sunglasses
General Order No. 28
Tracks of Shining White
Cruelty the Human Heart
The Gorilla Murders
The Silence of the Sea
Guilty of Dust and Sin
The Human Dress
It Rumbled
Christmas Weather
Kissable Cleavage
Maria's Hand
Unicorns on Octavion
The Heart Has Reasons – WINNER of the SHAMUS Award for Best Private Eye Short Story
When the Levees Break
Down on the Pontchartrain
Ankle Biters of Old Arizona; or, Attack of the Wild Chihuahuas
Like a Skank in the Night
The Bonnie and Clyde Caper
Too Wise – WINNER of the DERRINGER Award for Best Novelette
Murder Intermezzo
No. 40 Basin Street
Pretty Rita
The Raven and The Wolf
They Called Her The Gungirl
Sniffing Out a Killer
Tenderless Night
K Love
Misprision of Felony
She Gleeked Me
Five Days Left
The Marriage Swindler
Romanesque
For Love's Sake
Just a Old Lady
The Blind Lagoon Misadventure
Effect on Men
Featuring Martin and Lewis
The Magnolia Murders
The Pain
The Peeschwet
Another Body
Sac-a-lait Man – WINNER of The SHAMUS Award for Best Private Eye Short Story
Ticking of the Big Clock
The Girl with the Gibson Girl Look
Fort Dumpster
The Booby's Bay Adventure
© 2022 O'Neil De Noux
all material on this website is copyrighted